The brief descriptions below are designed to familiarize you with our staff's training, professional credentials and work experience.
---
Chad L. Bailey, D.D.S.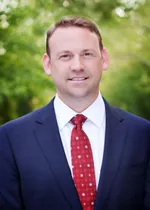 Dr. Chad Bailey has been providing outstanding dental care in our community since 1999. He received his undergraduate degree from DePauw University located in Greencastle, IN, and his Doctorate of Dental Surgery degree from Indiana University School of Dentistry. Dr. Bailey has excelled in the field of dentistry and is a member of prestigious professional organizations including the American Dental Association, the Indiana Dental Association, American Association of Cosmetic Dentistry, American Equilibration Society, Chicago Dental Society and participates on the Indiana Peer Review Board. Dr. Bailey has received extensive post graduate training at The Dawson Center for the advancement of dentistry in St. Petersburg, Florida as well as the Midwest Implant Institute in Columbus, OH, where he earned a certificate for completing his Root Form Implant Externship. In his leisure time, he enjoys spending time with family, traveling, playing ice hockey and golf.
---
Dr. Audrey Kyle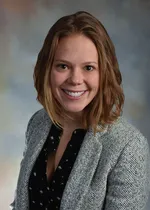 Dr. Audrey Kyle was born and raised in Noblesville, Indiana, graduating from Noblesville High School in 2010 as the Valedictorian of her class. She was also a valuable member of the Noblesville Swim Team where her maiden name, Audrey Welklin, can still be found on the record boards at the pool. Audrey attended Indiana University at Bloomington, where she graduated with a Bachelor of Sciences degree in Biochemistry along with the honor of Highest Distinction. Audrey was then accepted to Indiana University School of Dentistry. In dental school, Audrey held positions within her class and within the IU chapter of the American Dental Education Association. As a third-year student she volunteered to travel to Guatemala on an International Service Learning trip where she spent a week in San Marcos providing dental care to Mayan children and adults.
Audrey's family has been part of Noblesville for decades and she is thrilled to be returning to Noblesville to start her career. She recently married Jordan Kyle also from Noblesville, they are avid runners enjoy water sports and trips with family. Dr. Kyle is very excited to join Dr. Bailey's team and continue serving and being part of Noblesville.
---
Heather Gunn - E.F. Dental Assistant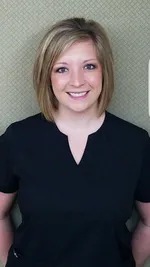 Heather has worked with Dr. Bailey since 2005. She earned her EFDA certification from Ivy Tech Community College in Anderson, IN. Heather is x-ray certified by the Indiana State Department of Health, and attended Midwest Implant Institute in Columbus, OH. She married her husband Mike Gunn in 2011. They have two children, Drew and Alyvia and a yellow lab named Gus. She enjoys traveling, working in the yard, and spending time with her kids.
---
Desiree Mendenhall - E.F. Dental Assistant
Desiree is a highly energetic person and loves the dental field. She has been working for Dr. Chad Bailey since 2016. She recieved her dental certificate from Dental Career Foundations along with her Radiology certification in 2016. She recieved her EFDA certificate in 2018 from Dental by Lynn. She is CPR certified and has training with Cerec. She enjoys spending quality time with her Husband and three kids. She continues to work on expanding her dental knowledge.
Kayla Ahlefeld - E.F. Dental Assistant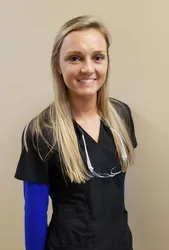 Kayla is originally from Pendleton, IN. She graduated from Pendleton Heights High School, attended Ivy Tech Community College and graduated from Dental Office Training by Lynn in Fishers, IN. She currently resides in Pendleton and enjoys spending time with her family and friends. In her free time she enjoys attending concerts and spending time in the great outdoors!
Angie Dane - Dental Hygienist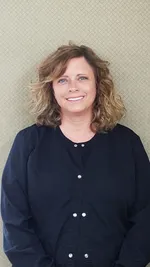 Angie graduated from Indiana University School of Dentistry in 1993 with a degree in Dental Hygiene. She has been with this practice for 20+ years. She lives in Tipton with her husband Kevin and their three children Noah, Jacob, and Rachel and two dogs Sadie and Scout. Angie enjoys spending time with family and traveling.
---
Karla Bredemeyer - Dental Hygienist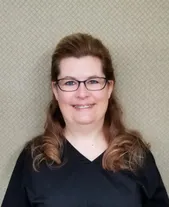 Karla was raised in Noblesville after moving with her family in 1981. She recieved her dental hygiene degree in 1995 from IU Dental School. After many years in the field, Karla went back to IU Dental School in 2017 and received her degree in local anesthesia. She enjoys spending time with her family. She is known for being a "doting" aunt over her 6 nieces and 3 nephews.
Christy Reichel - Dental Hygienist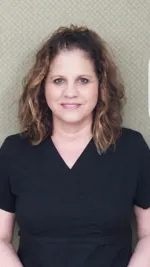 Christy started her dental career as an assistant for three years prior to attending and graduating from the I.U. School of Dentistry Hygiene Program in 1994. Since then she has been practicing dental hygiene and enjoys her career. She is married and has two sons, two grandsons, and one grandaughter. She enjoys spending time with her family, taking weekend trips, and reading novels.
---
Karen Bocock - Front Desk Receptionist
Karen has been in the dental field for 30+ years. She lives in Tipton, IN with her husband Dean, son Cliff, and two dogs; Molly and Maggie. Karen is an active member of the Tipton Lions Club and enjoys spendingtime with her family and lots of summer weekends at her parents lake house in North Webster, IN.
Vineta Quigley - Billing Receptionist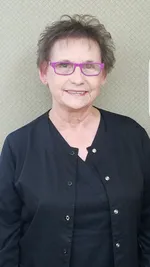 Vineta has enjoyed working in a dental office for over 29 years. "Never a dull moment with the variety of things to do." The highlight of her life is spending time with family and trying to come up with fun and exciting things to do. She is married with four great children married to wonderful spouses with twelve fantastic grandchildren.